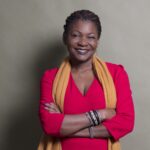 Hemley Boum was born in Cameroon, where she read anthropology before going on to study international trade in Lille, thus switching from Douala's tropical showers to the cold of northern France. After a first job in Paris, she returned to Cameroon as key accounts manager for the subsidiary of a French company in Cameroon. Her exploration of her own country would lead her to discover agri-food, cotton, and forest development companies, and greatly enrich her perception of Cameroonian society and international exploitation of local resources. She would later live successively in several African countries before moving to Paris and finding the form under which to best foray into writing. Hemley Boum's novels capture city life, tradition and history through the portrayal of quotidian, intimate relationships that depict and evoke an Africa that transcends clichés.
Her previous novel, Les Maquisards, was praised by critics and won the Prix du livre engagé de la Cene Littéraire in 2016. In 2005, she was awarded the prestigious Grand Prix Littéraire de l'Arique noire.
No products were found matching your selection.